My TJ started out as a lonely, desperate vehicle in dire need of a home. It looked so sad and forlorn on the lemon lot at Edwards AFB that I just knew my daughter would love it. We purchased it in 2003 as her first car since we lived in the mountains where we got snow, and we knew she'd love it. I had been reading Edmunds Town Hall and met a Jeep friend online prior to this, so I knew what the world of Jeeps would going to entail. Little did I know the extent.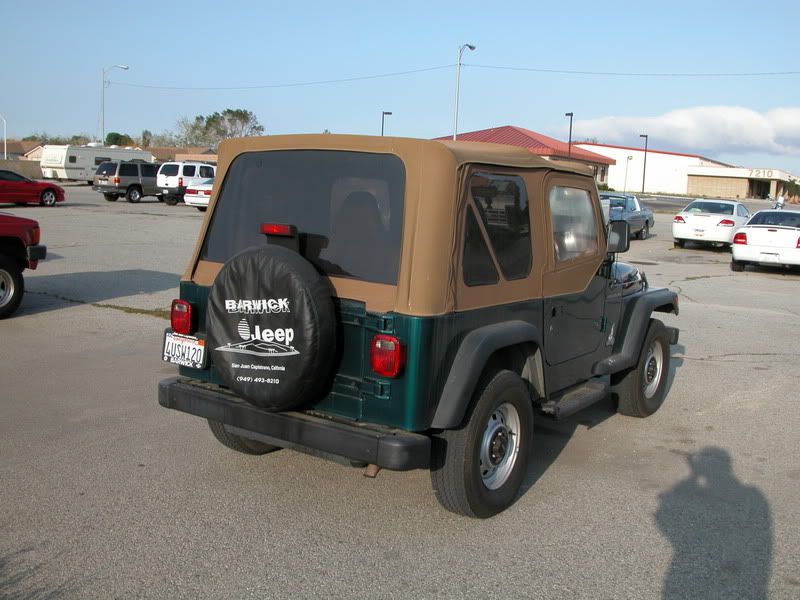 We brought it home, and the first mods had to be:
- replace the missing front sway bar and end links.
- replace the holy top that looked more like a tattered shroud.
- get some real tires/wheels on there.
A new replace-a-top black sailcloth soft top was the first order of business. After that, came the replacement sway bar and JKS disconnects. The JKS's were cheaper than stock, beefier, and a way to potentially offroad, though that was nowhere in the plans at that time. Got a hookup on ebay for 5 Canyon wheels from a guy in Colorado and I installed 30" BFG AT's. No need for MT's in dry soCal.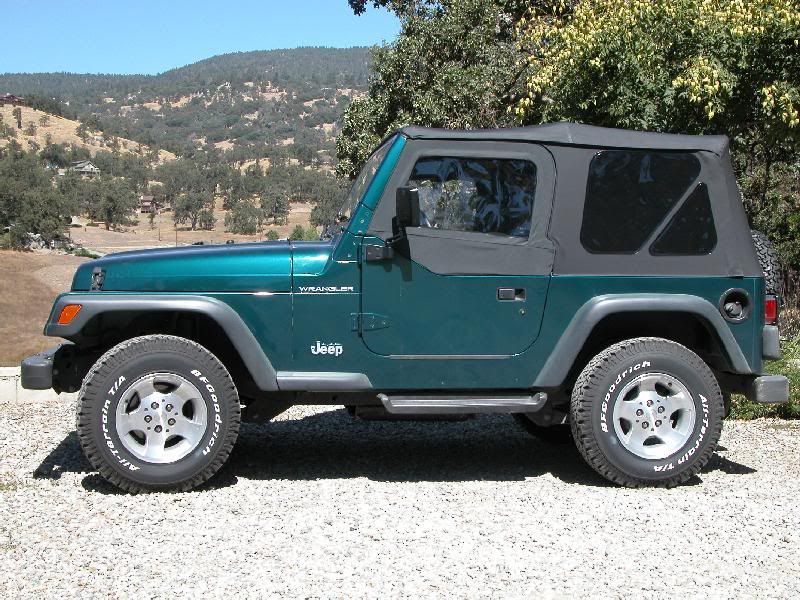 After having our daughter drive it a bit, we realized that it was a BAD idea for her. She nearly flipped it over driving on the street. So the decision to sell it was upon is. By this point, I wanted a TJ for myself, and we toyed with the idea of selling the TJ to fund a Honda for our daughter. But I told my wife I'd be picking up a 6 cyl TJ to replace the 4 cyl. So the 4 cyl stayed. lol
My biggest constraint all through the build process (little did I know it was to go on from 2003 thru today and beyond at this point), has been the budget. Whenever I do or plan a mod, I have to weigh cost and benefit, and see what options I have. If it wasn't a NEED, it moved lower on the list. If something broke, I'd have to look at OEM vs aftermarket and level of effort to fix in the analysis. Tedious, I know, but hey, I'm married to a budget analyst for the .gov, so I'm used to it!
At that point, I realized wheeling was fun after riding with my friend from Edmunds while in the southeast on a business trip from California. I came out early to go to TB with him and a group before my meetings in Alabama. After driving his jeep, I knew I had plans for Kermit, the newly dubbed TJ with me in the driver seat.
Me driving his Jeep. Can't recall the spot though.
My friend and his pup!
At this point, being stock height, I opted for under side armor. Toys by Troy rock rails, Kilby gas skid, and Toys by Troy steering box skid were installed. They could grow with the TJ. It stayed pretty much like this, with the exception of replacing the interior carpet and putting on some seat covers to hide the god-awful vinyl 97 seats. Looking back, I should have skipped this and just lined the interior, but oh well. Live and learn. I also had to replace the radiator because of Jeep's WONDERFUL plastic to metal seams. A new 2 row radiator from radiatorbarn.com solved that problem. BTW, doing radiator work in the middle of winter SUCKS.
Since I had ordered the sway bar and disconnects from
www.dpg-offroad.com
, I went back to Dirk for some IPF lighting upgrades. The mountain roads are pretty dark and the TJ lighting is not that great. So the IPF H4 headlight upgrade and 2 IPF lights on the dash (both with 110w bulbs) made the road visibility SO much better. Hella would have been an option, but Dirk's pricing was in line with what I had budgeted and I liked the IPF's reflector design as both fog and driving lights.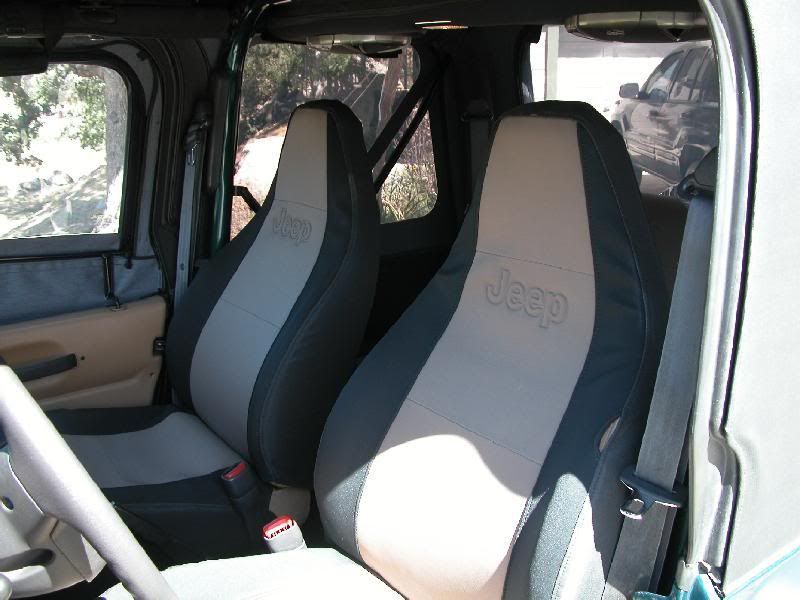 Around this time, i took the Jeep to Bakersfield, CA for a much needed sound upgrade. Amplifier, Alpine unit, Kicker speakers, XM, and iPod integration made the rides much more tolerable!
All of this was in 2003 and early 2004. I went to Camp Jeep California and learned just how much fun even a 4 cyl TJ could be. This event mandated the CB solution of the Cobra 75 WxSt and Arizona Rocky Road antenna mount for trail communications. The Cobra has been great but I've since replaced the ARR antenna mount with a mount built into my rear bumper. It was a great mount, but became redundant later on...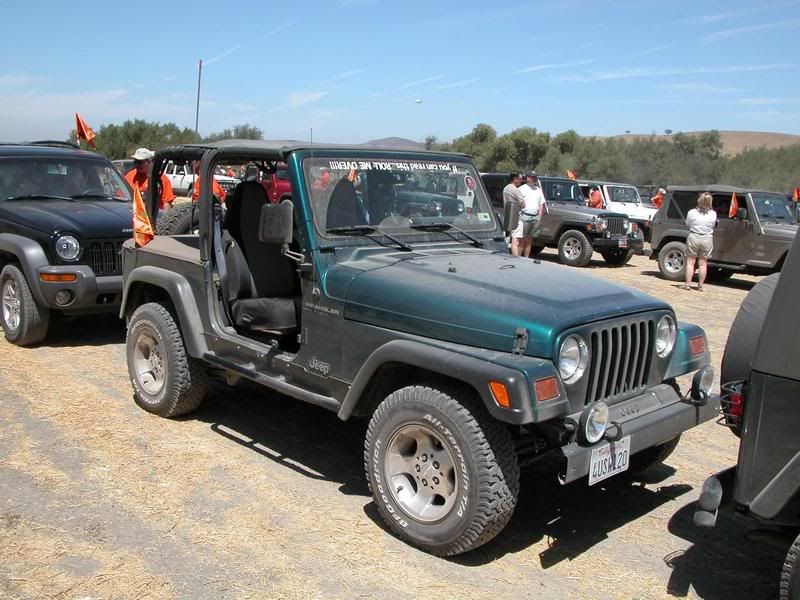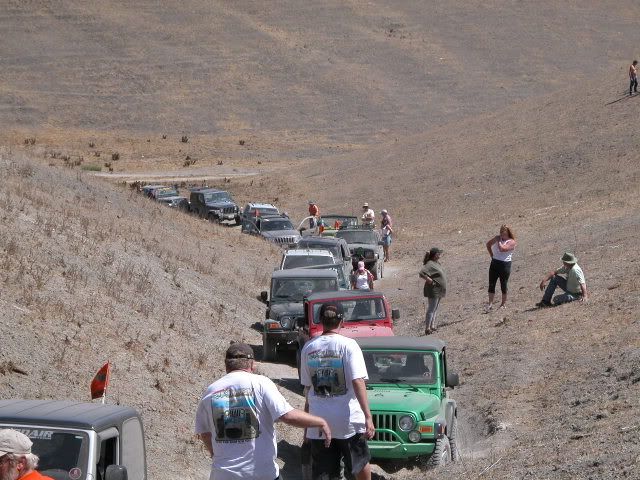 Most of my mods came from west coast companies to save shipping. Toys by Troy, Arizona Rocky Road, and Kilby were all purchased from CA or AZ distributors like 4x4groupbuy. Drilling those first holes was FUN and SCARY at the same time. My mod cherry had been burst.
LOTS of idea from Camp Jeep, but nothing happened until we moved to Alabama. Fast forward to early 2005 and my TJ has made it to Alabama...
I'll be updating this post shortly with the rest of the story...
Now in late 2004, I moved to Alabama with my BMW 3 series. My wife had the Jeep transported out here about a month later since she was overseeing the house being packed up.
Got it here and I think the next weekend I went up to Turkey Bay to wheel with the ItsAJeep crew. That was when I realized that BFG AT's SUCK in the southeast mud/clay/goo. Going up First Hill, I already had racing slicks. Made for a challenging day! I have pics of that day, but I'll have to find em. I know they got some of me high centered and going through Dog Leg (it's a lot easier with a shorter, stock rig!).
During this time, I replaced the stock bumpers with Jeeperman bumpers front and rear. Since I had 30" tires, I didn't opt for the tire carrier version. Another decision that would bite me in the butt down the road. I went with the 54" bumper to protect my fenders, yet another decision that would get me! lol I had the light hoop option set up simply because I liked the look. More about that light hoop later. LOL I did opt for the frame tie-ins from Jeeperman though. I did a writeup on the bumper installations that I think Jeeperman still uses today.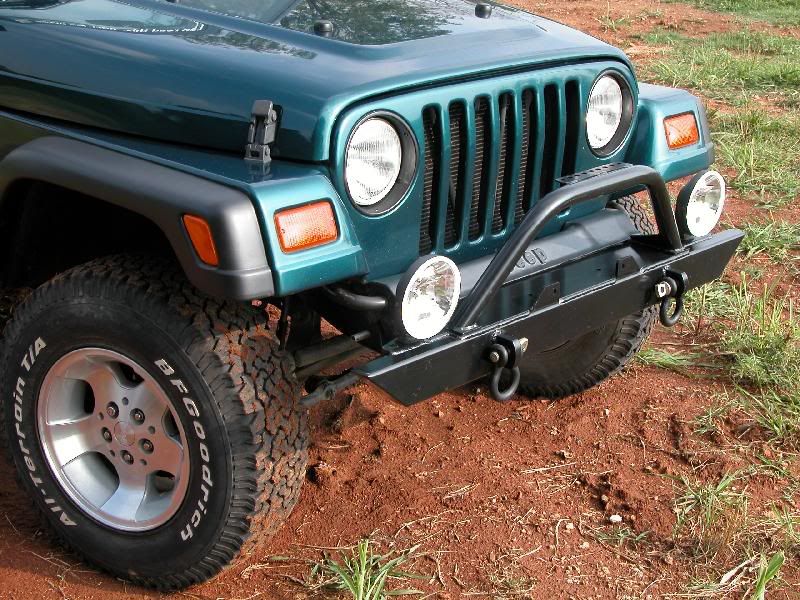 A trip to Turkey Bay and a distraction by a GPS led to this: A tree jumped out and snagged my 'protected fender' one day.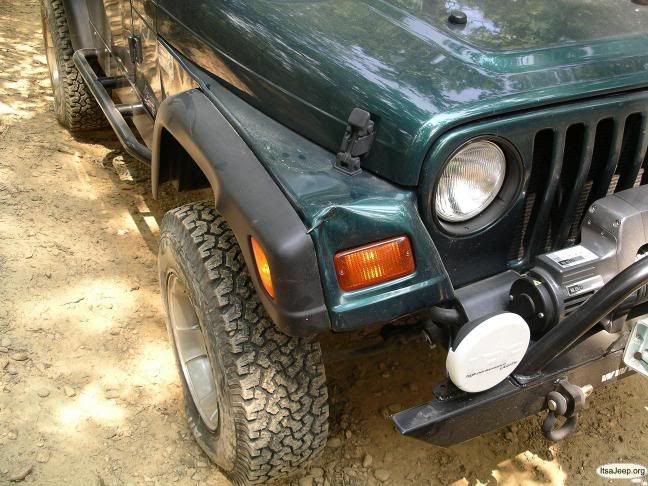 Yeah, that was fun to explain to her! lol
With my rig soon to be higher and with more traction, I had to address getting myself in trouble and getting stuck. Warn was the only option that I considered. Her comments on this were plain and simple: "If you're in a pickle and you HAVE to count on something to save you and the Jeep, get something you KNOW will work." So I got a SMOKING deal on a 9.5ti (under 900, brand new from winchdepot.com).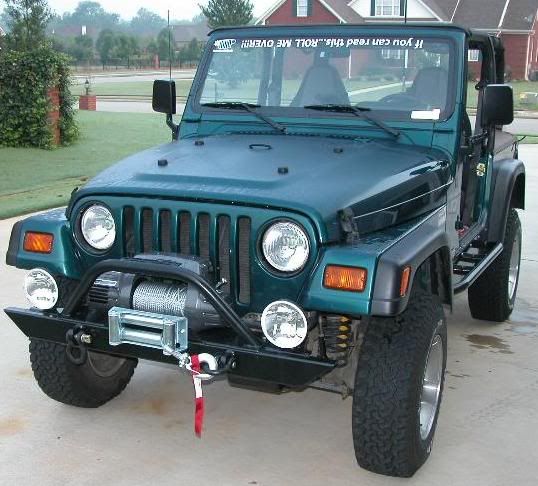 I wish I knew where that red strap was now! Probably in the mud at Wheelin' in The Country (Summertown, TN). lol
So I wheeled it stockish for a bit longer, then in October 2005, I finally got my wife to go wheel with me! That is the day that changed Kermit's destiny. Doing Dog Leg again, I had problems. Got high centered and lost traction.
My wife's comment as I was kicking up a bunch of dust: "You need more power!"
My response: "No I need more clearance and more traction!"
I think I was finally winched out of there about 3' from the top. lol
The mods began in earnest! My plans originally were for a D44 in back locked and a beefed up D30 in front, both with ARB's and 4.88's. But she wanted me to look at alternatives, so I wrote up the spreadsheet comparing a D44, 8.8, and upgraded D35 (shafts, gears, locker) and looked to see what would be best for the budget and me. I really had to look at how I drove the TJ (very light on the gas 99% of the time) and what my plans were. At this point, my mental state was that I wanted to go big like everybody else was doing. Yeah, I felt like I had to keep up with the Joneses. I admit it. But the spreadsheet really made me think out what was best financially and for what I wanted the Jeep for in the first place.
I don't do the crazy rock stuff, the vertical walls, super deep mud (well intentionally anyway lol). I want it to do the trail rides, have some fun in the rocks and dirt, and get me places you can't go with other rigs. So the D35 upgrade was the path we chose.
For this round of mods, I went with Tennessee Offroad as I just didn't get a good vibe from the local shop here. The mods ended up being:
- Yukon 35 shafts (30 spline alloy)
- ARB locker in back and compressor underhood
- 4.88 gears
- Lockrite locker in front
- TrXuS MT's 33x12.5.x15 (x5)
It came down to money. The Yukons were cheaper than a Superior setup, and for a 2.5L I wasn't too worried about too much torque frying the rear axle in this configuration. The lockrite was a concession to the budget, and I still have hopes of making THAT an ARB at some point, possibly even doing the install myself. The TrXuS MT's were a good bargain and a better deal than anything else at that time. I'm still running that same set today. But they are a PITA to balance.