15x7
inches 5 on 4.5 bolt pattern, same bolt pattern as Ford Mustang, Ranger and others. Most of these have backspacing of 5 1/2 (5.5), +38 mm offset///////////////////////////////////////////////////////////////////////////////////////////////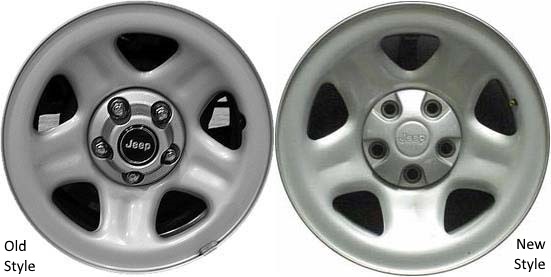 Stock Steel-Base Wranglers and Cherokees
Stock Steel-Came on base Wranglers,some Wrangler Sports and Cherokee, Cherokee Sports, also available with a chrome wheel cover. Avaialble on Ford ranger with a Ford center cap
YJ Wrangler Stock Aluminums, Also used on Grand Cherokees and by Chevy (Silverado?) with a "4x4" script
93-95 Grand Cherokee aluminum, often confused with the above wheel, will fit Wranglers and Cherokees.
"Comanche" Aluminum-Often confused with the later 15x8 "Gambler" wheel
Came on late 80s early 90s Cherokee and Cherokee Sport among others, also slightly similar to the later 15x8 "Alcoa" wheels
"Grizzly" Came on mid/late 90s Wrangler and Cherokee Sport, often has darker painted spokes, some times is all silver painted, sometimes a greyish spoke
"Ecco" Came on later model Wrangler and Cherokee approx. 2001 and up, often confused with Grizzlies. Can be all silver, or have grey spokes
93-96 Grand Cherokee "Canyon" often confused with the later 15x8 99 and up Wrangler/Cherokee Canyon. Came on mid-nineties GC. 15x7 with narrower spokes and plain center caps.
15x8
inches 5 on 4.5 bolt pattern, 5.5 (5 1/2) backspace
"Gambler" Stock on early TJ Saharas
Wrangler/Cherokee "Canyon" wider spokes and "Jeep" logo in center cap, 15x8, Often called "Sahara" wheels because they were standard with that package in the mid TJs from 99-00 up to approx 03-04
"Ravine" came on late TJs, 2002-2006 approx. Also came in a gold color on the "Golden Eagle" package.
"Alcoa" Came on some special editions and were optional.
Note:
there are MANY more wheels used by AMC and Chrysler that will fit on YJ and TJ Wranglers, including the Grand Cherokee "snowflakes" and the earlier CJ "slots".
There are the later "Rubicon"/"Moab" 16 inch wheels I have not listed here.
There are also the JK 17 and 18 inch wheels that will fit TJ/YJ using an adaptor/spacer, as well as wheels from other models such as Liberty that are direct bolt ons.
This list has been compiled primarily to display the wheels available to easily exchange for the Wrangler YJ and TJ, and to try and cut down on some of the confusion surrounding different but similar wheels.
Feel free to add to or correct any information here.