I know it is late in getting started, but here is my build thread.
It started with my acquisition of an 07 JK unlimited rubicon.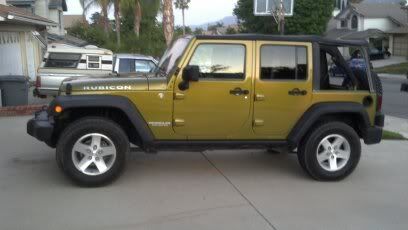 I really like the Jeep but I found a problem before we drove it off the lot. My 9 year old daughter had trouble climbing into the Jeep. After watching her do it in a dress on the way to church, I knew that something had to be done.
After quite a few hours on the internet, I found two possible solutions. The first was a set of bolt on tube steps for the stock rubi rails. They were about $290 plus shipping. The second solution was a set of weld on tube steps for the stock rubi rails. Those were about $250 plus shipping. I then thought to myself, I bet I could get some steel tube and make them myself. I have always been a DIY guy and I can weld (a little). The only problem was bending the ends of the tube so I had smooth bends instead of welded angles. I then remembered a forum member here that had offered help and tools when he introduced himself to me. I contacted Chris and he stated that he had a tubing bender and a welder and I should come on over and we could look at the problem.